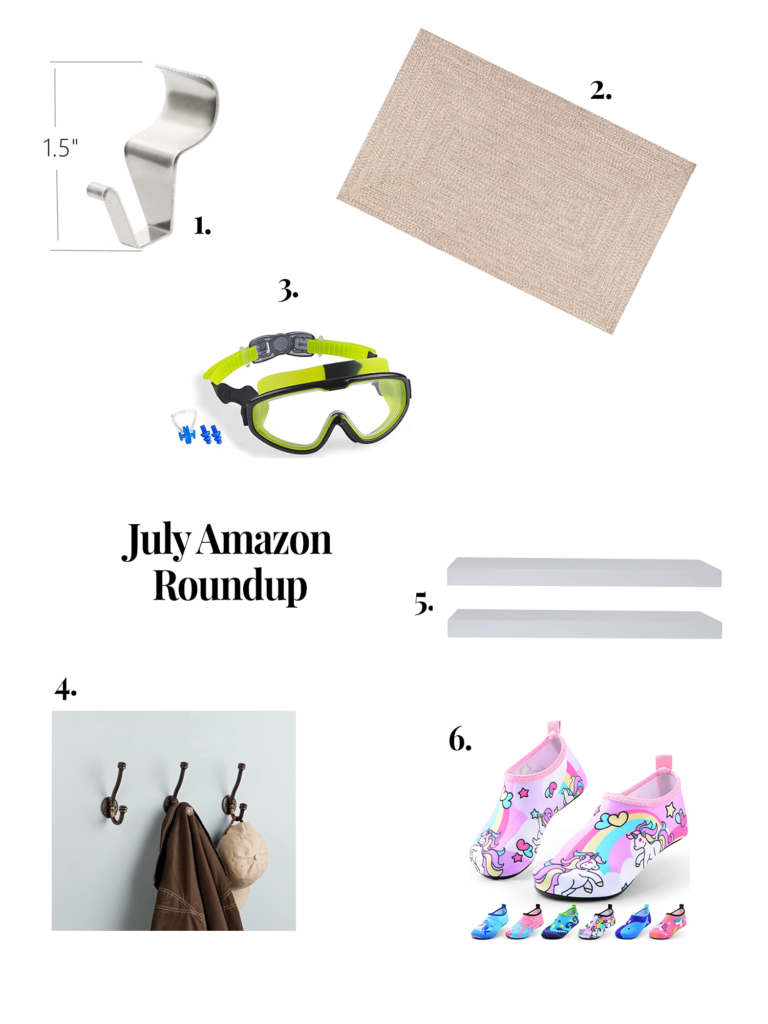 Let's get real here: Amazon is basically a family member at this point in our household. Here are a few items we're obsessed with in July:
1. Vinyl Siding Hooks
When I planted our stick of a wisteria plant back last October, I had no idea how large it would get in a few months! I either picked the best place in our yard for this plant or this is kind of how fast it typically grows.. so of course we had chosen a trellis that was not tall enough. My girlfriend Nicole over @nicolehopedesign shared with me these vinyl siding hooks, and now our wisteria is growing to even newer heights! You can buy these here.
2. Outdoor Rug
We needed a wider rug to be able to walk freely from the pool concrete deck to the deck attached to the house without having to suffer and touch all of the rocks. This did the trick!
3. Kids Goggles
Ever tried to put some regular goggles on your kid? If you are anything like us, you know it's a huge issue so then times that by 1,000 when it comes to our two autistic children. Although Violet is still transitioning from her goggles with a nose cover to these, she does love the comfortable feel and guess what? Oliver will wear these. He does not enjoy anything on his head: no hats, no sunglasses, no nothing. But I can get Ollie to wear these in the water because I think he understands the pros and cons: wearing these comfortable goggles allows for him to not have the uncomfortable feeling of itchy sensitive eyes from the chlorine water when he goes under and opens his eyes.
You can buy the ones we purchased here.
4. Brass Hammered Wall Hooks
We purchased these in our first home for our entryway and I just loved how sturdy they were! So I wanted to bring them back to Swan Meadow in the sunroom for towel hanging. You can see the type we purchased here.
5. Floating White Shelves
I feel like every home just needs to have these right?! We needed a quick and simple solution to hold our sunscreen and extra citronella candles in the sunroom once we moved the cabinet out… here comes the most average, typical shelf known to instagram. But they work! I do also like that these are wider than most out there!
6. Water Socks
Having a concrete pool has one single drawback: cutting up the bottom of your toes! Especially when I'm in the pool with the kids, I'm using a lot of foot effort to stay stabilized which has led to a lot of rough feet. These water socks have been a lifesaver!
Our pool deck also gets unreasonably HOT so I know that the kids feet are safe when they are walking around the pool and deck as well.